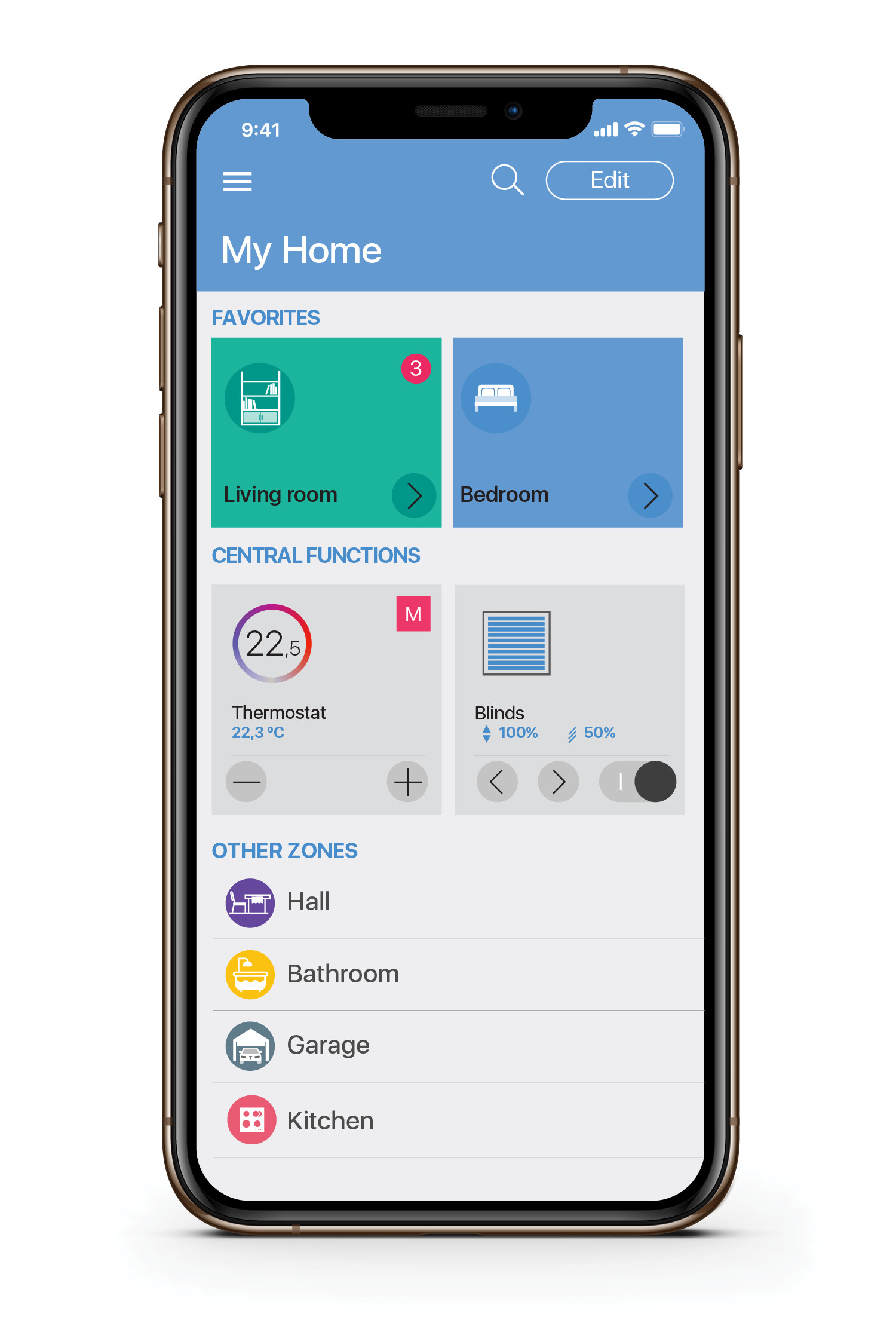 A single app controls everything.
TapHome is the first and only smart home system in which you can do adjustments on your own.
TapHome is open - it integrates all devices in your home. We did the integration so that you don't have to.
TapHome fits into your standard budget for thermostats or for blinds control.
Building your house using a smart home technology makes it future proof. It is a must for a modern home and it gives you limitless options for control.

Photovoltaic panels

System switches between photovoltaic panels and electricity from network depending on real-time needs.

Doors and Gates

Unlock the door using a PIN code keyboard, a card reader or with a phone.

Access control

Guests at the guesthouse will receive access codes with limited time validity.

Sauna

Heat up sauna remotely before you get home.
Voice control

Integrations with Siri and Alexa
Multi-room audio

Integrations with Sonos, Denon, Fonestar
Open system

API, MQTT, HTTP, UDP, Modbus, Wiegand, DALI, DMX
Home Assistant

Integration with all IoT devices.
TapHome ⭐ ⭐ ⭐ ⭐ ⭐
---
⭐ ⭐ ⭐ ⭐ ⭐
Great smart home system. Easy adjustable for your specific requirements. I control all of my devices / equipment by one swipe on my phone. Super fast support in case of any questions. It helps me to safe time and money.
Tome Pesix 2023.07.18 — 4 months ago
---
⭐ ⭐ ⭐ ⭐ ⭐
We have complex solution from Taphome installed in our new house. Incredible system to simplify life and save the money in longer perspective! #shadowing #lighting #heating #ventilation/recuperation #windows, doors #security #irrigation #photovoltaic #meteo ...
Rado Rezak 2023.07.08 — 5 months ago
---
⭐ ⭐ ⭐ ⭐ ⭐
Tap Home got our new home alive ! I have almost 300 devices connected and getting everything working was easy , intuitive and fun. We run lights, electrical floor heating, smart sensors a Sonos Audio System and integration with the Photo-Voltaic system .. for now :) More be added soon. Excellent customer support , very competitive prices and above all , a solution that works . Tap Home provides a flexible environment and broad integration opportunities. If you are on the market for a home automation solution, do give Tap Home a try and consider it for your project. After 6 months of research and various tests, I can say this was the right choice for my project . Well done and keep up the good work!
Calin Haiduc 2023.06.13 — 5 months ago
---
⭐ ⭐ ⭐ ⭐ ⭐
I have installed a Tap Home system in my new house to manage the heating and the blinders (for the moment) and I am very happy with my decision. When Tonda, the tech who installed it told me about it I was skeptical, but seeing how he prepared everything and how he installed it all my doubts went away, the installation process went flawlessly and when I started using it I found its quite versatile because you can control the system from your phone and from your desk computer using the application. For now it will work in this configuration and for the future I will see what other function I will implement, maybe a garage door.
Mihai Paun 2021.11.17 — 2 years ago
---
⭐ ⭐ ⭐ ⭐ ⭐
If you are up for intelligent household I can very much recommend TapHome. We were just before installation of electrics in new-build house and were wondering if we should go for classic or smart electrics. I have found electrician who convinced me to go for TapHome and I couldn't make better decision, best value for the money spent. Application is user friendly, easy to manage I can recommend to anyone who wants quality home automation in place.
Lubomir Lipowski 2021.11.08 — 2 years ago
---