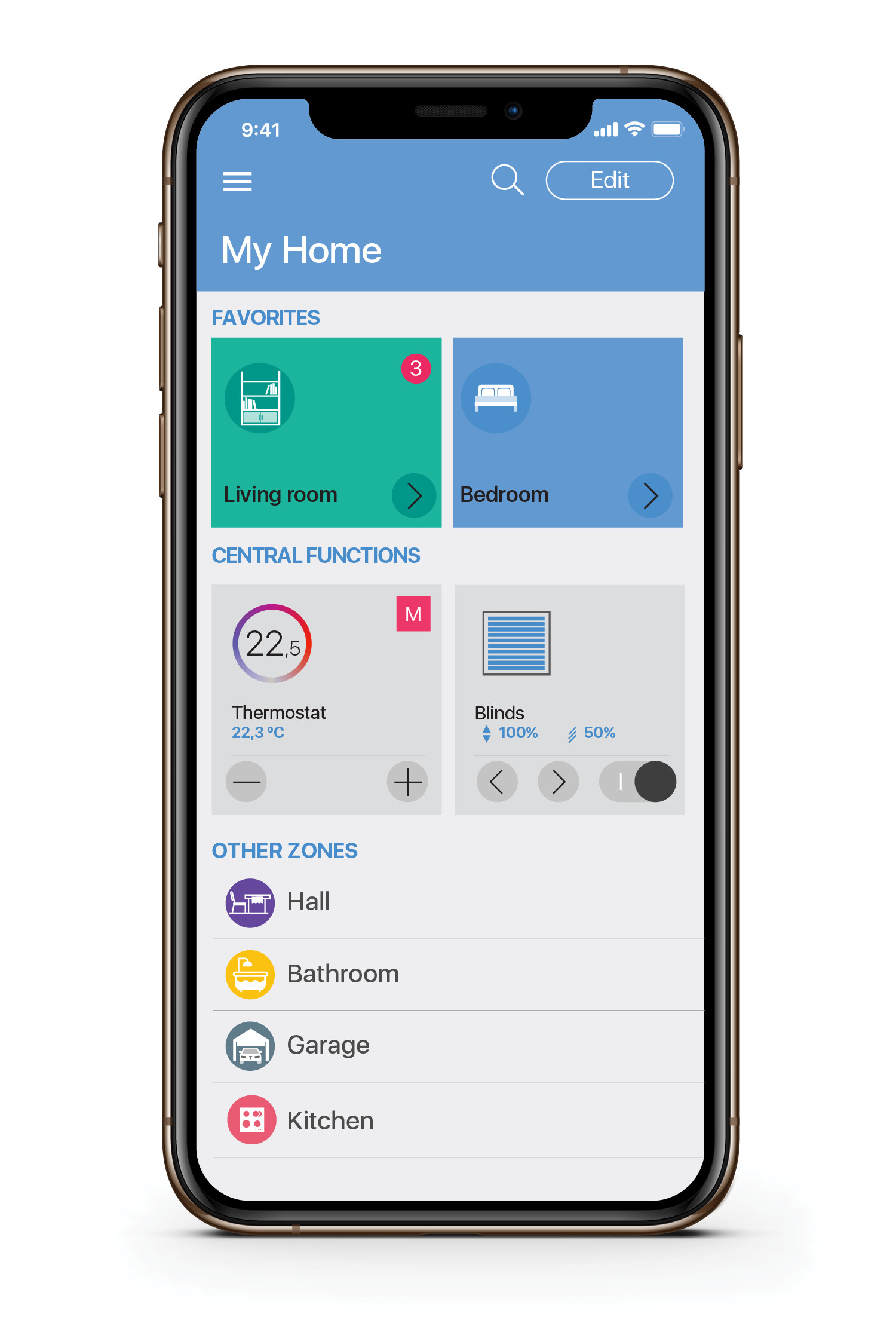 A single app controls everything.
TapHome is the first and only smart home system in which you can do adjustments on your own.
TapHome is open - it integrates all devices in your home. We did the integration so that you don't have to.
TapHome fits into your standard budget for thermostats or for blinds control.
Building your house using a smart home technology makes it future proof. It is a must for a modern home and it gives you limitless options for control.

Photovoltaic panels

System switches between photovoltaic panels and electricity from network depending on real-time needs.

Doors and Gates

Unlock the door using a PIN code keyboard, a card reader or with a phone.

Access control

Guests at the guesthouse will receive access codes with limited time validity.

Sauna

Heat up sauna remotely before you get home.
Voice control

Integrations with Siri and Alexa
Multi-room audio

Integrations with Sonos, Denon, Fonestar
Open system

API, MQTT, HTTP, UDP, Modbus, Wiegand, DALI, DMX
Home Assistant

Integration with all IoT devices.
TapHome ⭐ ⭐ ⭐ ⭐ ⭐
---
⭐ ⭐ ⭐ ⭐ ⭐
I had some blocking problem with TapHome system at the beginning (4 years ago) and Marek and TapHome support team was ever available in every moment and solved all issues with competence and professionality. It's a great team and one of the powerful of TapHome
Paolo Capelli 2021.12.10 — a year ago
---
⭐ ⭐ ⭐ ⭐ ⭐
Fast, professional and perfectly matching our expecations. These guys have set user experience as their priority.
Miro Hrusovsky 2021.11.18 — a year ago
---
⭐ ⭐ ⭐ ⭐ ⭐
I have installed a Tap Home system in my new house to manage the heating and the blinders (for the moment) and I am very happy with my decision. When Tonda, the tech who installed it told me about it I was skeptical, but seeing how he prepared everything and how he installed it all my doubts went away, the installation process went flawlessly and when I started using it I found its quite versatile because you can control the system from your phone and from your desk computer using the application. For now it will work in this configuration and for the future I will see what other function I will implement, maybe a garage door.
Mihai Paun 2021.11.17 — a year ago
---
⭐ ⭐ ⭐ ⭐ ⭐
I can never recommend taphome enough! To all my customers. A reliable, beautiful. Affordable product and top support.. and don't just take my word for it. Try it yourself. and if your are not fully satisfied I will personally refund you.
Mossab Bukaai 2021.11.17 — a year ago
---
⭐ ⭐ ⭐ ⭐ ⭐
If you are up for intelligent household I can very much recommend TapHome. We were just before installation of electrics in new-build house and were wondering if we should go for classic or smart electrics. I have found electrician who convinced me to go for TapHome and I couldn't make better decision, best value for the money spent. Application is user friendly, easy to manage I can recommend to anyone who wants quality home automation in place.
Lubomir Lipowski 2021.11.08 — a year ago
---